As the Chief Technology Officer of MediaLab, I'm excited to share our new transcription feature, designed to address the universal challenges of converting spoken words into written text. Through constant interaction with professionals from various sectors, we recognized the pressing need for a streamlined transcription solution.
The evolution of transcription at MediaLab
In my role as CTO, the feedback we consistently received highlighted the time-intensive and often tedious nature of transcription processes. Many clients expressed a need for a tool that would simplify their workflow, freeing up time for other tasks and improving overall efficiency.
Inspired by these conversations, we expanded our platform to include a transcription service that promises to redefine how businesses approach transcription. And, recognizing the potential of modern technology, we've enhanced this feature with AI capabilities for those who seek an automated solution.
Why use MediaLab's transcription service?
Unified management: Handle your captions all in one place with MediaLab. You can add, modify, and download your .srt and .vtt files directly.
Efficiency: Our transcription service, whether manual or AI-driven, dramatically speeds up the process of turning speech into text, granting you more time for other priorities.
Cost-effectiveness: Streamlining the transcription process, especially with our AI option, reduces costs, offering an affordable alternative to traditional human transcription services.
Simplified work: Let automation tackle the mundane for you, and free your team from repetitive tasks with our AI-enhanced transcription.
Seamless integration: Our platform integrates effortlessly with your current workflow, making it simpler than ever to add transcription to your toolbox.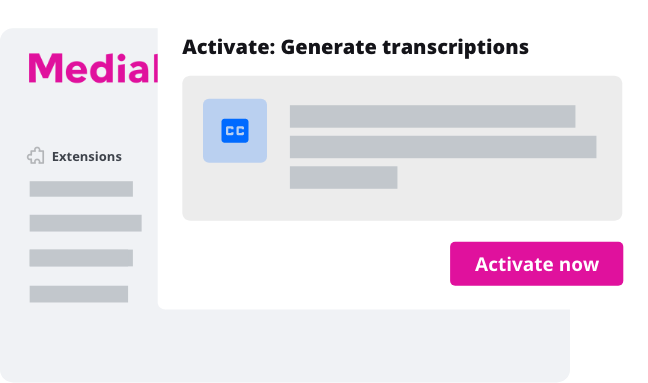 Ready to give it a go?
Admins, our transcription feature is now available with 100 free minutes to test it yourself and grant access to your users with the "Manage captions" flag to stay in control. Account owners can activate the additional AI extension via the extensions settings menu. Boost your operations by enabling this feature for your MediaLab account and its users. Need help or have questions? We're ready to assist.
Get in touch
The transcription process:

Step 1: Easy upload
Our goal is to enhance your transcription experience within MediaLab. While our platform already supports effortless audio and video uploads, we've further refined our interface for transcription. Users can seamlessly integrate their existing content and align any pre-existing transcripts.
Step 2: Swift transcription
We've incorporated AI into our service for those who want rapid results without compromising on accuracy. Add labels and titles, manage languages and even generate transcriptions with the powerful OpenAI engine, all within MediaLab. Prefer transcription by certified professionals? Hold tight as there's more to come in the nearby future.
Step 3: Share your work
Once your content is transcribed, you can share your final work with others. Set your sharing preferences and allow recipients to download the transcript as needed.
Ready to try it yourself? Get started today!
If you've been seeking an efficient, accurate, and cost-effective transcription solution, look no further. Experience the power of AI-driven transcribing with MediaLab today. Embrace the future of transcribing with us, and let's pave the way for a more efficient and productive workflow.